This October, the wide range of Infyniti cleaners made by Arco Chimica will be enriched with a new proposal: the Cleaning Kit Infyniti. The new packaging of the Cleaning Kit Infyniti meets the express needs of the end customer, both in terms of size and weight, composition, quality and assortment of references. The kit will be available in two versions: "complete", designed for start-ups and "recharging", set up for maintenance.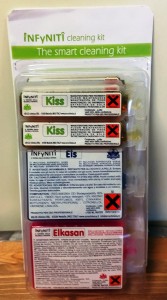 Infyniti Cleaning kit represents a new way to propose the Infyniti line, which includes100 ml caps, for both ready-to-use, Elkasan for bath and Eis for furnishings, as well as several types of 15ml caps, like Kiss, Green and Lipari Cedro for maintenance, without counting the two 750 ml bottles complete with sprays. All packaged with a thermally heated front and cardboard plastic retro, featuring the pictures and the presentation phases of this innovative system. (Mauro Cocconi, commercial director of ARCO CHIMICA – Arco Chemical Group).
Features of the Infyniti Cleaning Kit
The selection of the kit products is suitable for domestic use and for all the needs of small yards. In this way, even small and medium-sized companies have the potential to reduce waste, optimize warehouse space, and completely eliminate waste production, with the benefit of optimizing purchases of detergents.
This post is also available in: Italian