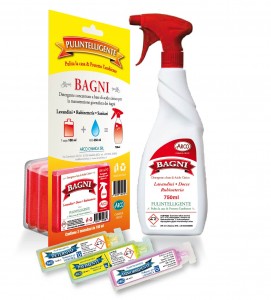 Arco Chimica has developed Pulintelligente, a line of single-dose detergent capsules, already sold at Medolla's Tailor Point adjacent to the company's headquarters, and is available to all hygiene specialist retailers.
Pulintelligente is a complete line of 6 products to clean the whole house with respect of the environment, thanks to concentrated detergents in single-dose capsules:
Spring Flowers softener
Multipurpose for glass, mirrors, lacquered and laminated
Bathrooms for daily maintenance
Degreaser
Floors
Argan oil perfumed enzymatic detergent for washing machine
The benefits to the environment (packaging reduction, logistic reduction and related CO2 emissions, reduced environmental impact of detergent) are added to the economic benefits: in fact paying attention to the price of these kits, you will notice a great convenience, mainly due to the absence Packaging (the bottle can be reused several times, for floor washing the capsule is discharged directly into the bucket) and reduced logistics costs. Also, you do not pay for water, which is naturally added to all detergent bottles!
For example: with 28 single-dose Pulintelligente capsules of washing solution, pouring a 15-ml capsule into a bucket full of 5 liters of water.
Practicality and convenience of the Pulintelligent line are all to be discovered.
This post is also available in: Italian